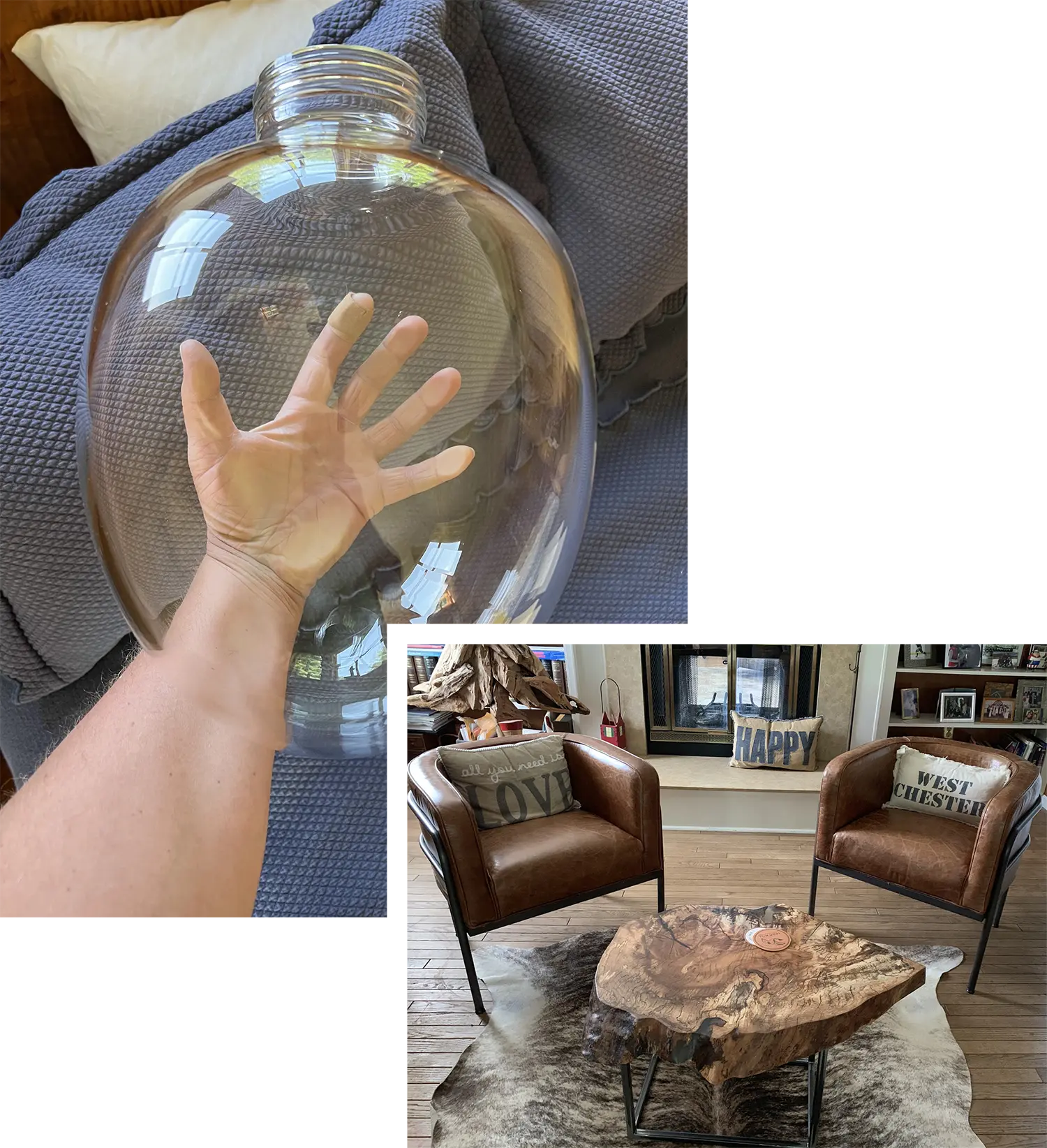 Ivystone Studio shares creativity and sparks imagination
Ivystone is proud to offer both glass blowing lessons to groups who are interested in the process and private lessons. You can learn the art alongside your family, friends, or even colleagues. Ivystone also offers a glass blowing apprenticeship to individuals. A glass blowing apprenticeship allows for a better understanding of technique and is a great opportunity if you're looking into becoming a glass-blowing artist yourself.
If glass isn't your preferred material, Ivystone also offers a woodworking apprenticeship. Not to worry; if you want to take just one woodworking class for fun with friends or family, you can do that too! At Ivystone, we're happy to offer these fun one-time experiences.
Experience the fun and excitement of glass art first-hand as you learn how to make your own glass artwork during our 1-day and long-term class offerings. Taught by local Chester County artisans, you will learn the skills you need to create both simple and advanced glass vessels.
Our studio classes are offered year-round at Ivystone Studio, located in beautiful Downingtown, PA. We offer classes in a variety of techniques that can be catered to your skillset and for all skill levels in a comfortable setting with small class sizes. We are incredibly passionate about glass and are dedicated to providing education encompassing an authentic and ancient art form. Our expert instructor will walk your group through each step of the glass blowing process, from choosing your design to applying color, to heating it up and inflating it with air. At the end of the day, you'll have both a new skill and a unique piece of art that you made yourself.
Through the heat, fire and excitement, Ivystone Studio is approachable, collaborative, non-judgmental, welcoming, relaxed, fun and most of all, creative. Try your hand at glass blowing today!
Payments and General Information
Glass blowing classes are 4 days per week and take place 11am to 3pm
Payments are due on the first day of the month or before day class lesson
Day class lessons are non-refundable
Long term days are flexible to make up as long as 24-hour notice is given for any classes that will be missed.
What Our Students Say
"Excellent Expertise! Ivystone Studio's glass lessons offer a rare level of insight and perspective!"
Day Class Offerings
Join us for an all-day glass blowing experience. This 6-hour class, 11am to 5pm with a 1 hour lunch break, is an intensive introduction to the art of glass blowing. It is ideal for those who are interested in learning about the glass making process and thrive in a learning environment that emphasizes hands-on, learn-by-doing teaching style.
Pricing
Single person = $750
2 People = $900
Cold Working Only:  $300 per person
A Look Inside Our Day Class Offering:
Learn the basics of glass blowing
Learn how glass reacts to the flame
Attempt to create something to bring home (ornament, paperweight, etc)
Long Term Offerings
Ivystone Studio specializes in long-term glass blowing classes, as this type of glass blowing can be difficult to teach in just one day. This class is geared towards the individual who is looking to become serious in the art of glass blowing, whether professionally or as a personal hobby.
Pricing:
3 Month: $10,400 per Month
6 Month: $8,800 per month
12 Month: $7,200 per month
A Look Inside Our Long-Term Offering:
Months 1-3: During months 1-3, you will learn basic safety measures, fundamental skills and build a good base of vocabulary. You can expect to learn some basic techniques like side seals, round bottoms, and annealing; as well as learn how to work with glass and how it moves at different temperatures.
Months 3-6: Months 3-6 is where you will graduate to more advanced benchwork, such as using glass lathe for more developed apparatuses or large vessels. Cold working is also introduced with basics of cutting glass and different fabrication techniques along with sandblasting, etching, and carving.
Month 6-12: Months 6-12, you will work on more intricate vessels and internal seals, as well as develop a more advanced fabrication and overall technique. At this point, we really start to cater to the direction the student wants to go via custom projects, such as working on an XL bore lathe (8 ¾) as well as more advanced color applications.  We will start to explore a proper lab set up for a safe glass blowing environment
At the end of a full year of classes, Ivystone Studio can offer more tailored custom lessons or options to lease studio space for your creative endeavor.
Schedule a Glass Blowing Lesson
To schedule a day class or a long-term glass blowing lesson, as well as to learn additional information pertaining to our classes, please give us a call at (610) 836-1035 and let us know when you'd like to schedule and how many members will be in your party.
Woodworking Apprenticeship or Lessons
As an artistic method, there is a lot that goes into woodworking. There are also a wide variety of tools to learn how to use. Each of these has its own unique purpose and required skills. The art takes time to master, which is why we offer a woodworking apprenticeship, right here in Downingtown, PA.
Not to worry; if you want to take just one woodworking class for fun with friends or family, you can do that too! At Ivystone, we're happy to offer these fun one-time experiences.
Techniques Taught
Depending on your style and the type of woodworking art you want to create, you will need to learn techniques such as:
Jointing
Planing
Routing
Sawing
Finishing