Justin Smith is the owner of Ivystone Designs and Ivystone Studio, a local Creative Art Studio located in Downingtown, PA. Raised in West Chester, PA, Justin graduated from Owen J. Roberts School in 1999.
His senior year he earned enough credits to leave school early each day to apprentice glassblowing in Philadelphia, and after graduating he attended Salem Community College for Scientific Glassblowing in New Jersey.
The more Justin studied the medium of glass, the more he realized he wanted to pursue it as not only an art form but as a business. 
"The idea of creating something out of nothing was the immediate appeal, uniting form and function. It just felt natural and unforced. The notion that I could actually earn money from blowing glass was secondary, but very interesting as I got a little older."
After years of blowing glass, in 2016, Justin took a leap and opened Ivystone Studio, housed in a huge 200 year old bank barn he purchased in Downingtown, PA.
He followed his creative vision and renovated the barn into a unique contemporary art gallery which hosts art events, shows, demos and more.  Justin also does fine woodwork and now the gallery showcases international artists, sculptors and craftspeople as well as Justin's hand-blown glass and contemporary wood furniture.​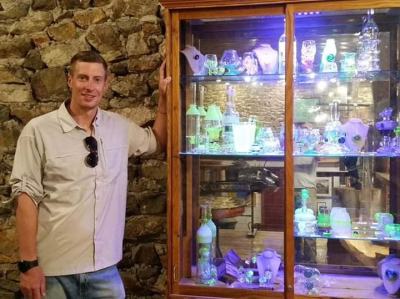 The detail, expertise and explosive creativity in which Justin designed the barn and the art displays within it often has visitors dropping their jaws in wonder and awe. And as he worked with the many artists at the gallery, he began to realize they could work together as a team to provide custom products and services to homes and businesses, decorators and architects. 
"Clients and customers started asking me my opinions on products, services and design concepts which opened this door to me being a conduit to provide a range of custom items. That was the beginning of Ivystone Designs."


Any concept or idea a client has, Justin can make a reality, from design, to fabrication to installation, in wood, glass, metal and much more. "Making clients happy is my focal point. This is a community philosophy; helping people to execute their visions through both collaboration and my connections feels very natural." 

Much like Justin's original feeling he had when he started blowing glass in high school, this new networking and business role also feels unforced. "I don't fight or deny the process of creativity and am just going with it all as it evolves."